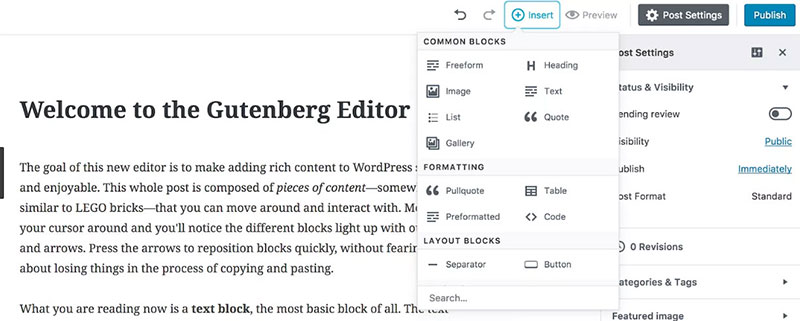 A brand new visual editor called Gutenberg is replacing the existing editor that is in the WordPress core code now. Instead of a "semi-what-you-see-is-what-you-get" writing experience, you can start using this editor with blocks. A short video here explains the change.
The new editor is expected to be released in the next version of WordPress which is V5.0 and this is supposed to happen in the third week of November.
Needless to say, this is a big change for those of you that use the editor, so this will be optional to start. In fact, I will be adding code that defaults back to the original visual editor on all client websites, once this update occurs. It is unclear now whether you will have your choice of both versions of the editor when this is done or just the old visual editor. It's also unclear how long WordPress will support the older editor. I'm guessing at least a year so you can "ease" into this.
The goal of the Gutenberg editor is to make it easier to customize your design within a post or page and give you more options to create your design.
This is a HUGE update for WordPress and because of this, I am not going to update your website the moment this version is released. (I don't like my clients to be beta testers) After any bugs are discovered and fixed, the WordPress development team is going to release version 5.0.1. This will happen about a week after version 5.0 is released.
As I said, this is a big change for WordPress which also means this is a big change for plugins. Several plugins such as Events Calendar, WooCommerce, and Gravity Forms are changing their plugins to meet specific needs for Guttenberg.
This is probably the single biggest change in an update that the WordPress development team has ever had.
Everyone in the WordPress community is hoping it goes smoothly.